Ille-et-Vilaine 35
1 - 10
Prix : par ordre croissant
Price : low to high
---
Brittany
Brittany benefits from excellent transport links, with 3 main international airports, several smaller airports, ferry ports, and a high speed train network (TGV).
Brittany is a top tourist destination in France. The Breton peninsula has over 2 700 km of unspoilt coastline, with a superb mix of sandy beaches, rocky shores, fishing ports, and historic towns.
There is even an idyllic inland sea called the Gulf of Morbihan, which contains more than 40 islands.
In this distinctive region there are 8 cathedral cities, fortifications, walled towns, towers, castles, and Neolithic standing stones to explore and enjoy.
Brittany is warmed by the Gulf Stream, so the winters are usually relatively mild, and the summers are nice and warm, without becoming unbearably hot.
Farmers and gardeners therefore benefit from a long growing season.
Central Brittany's rolling landscape rises to just over 300 metres in places, offering glorious views of its 3 natural parks, nature reserves, woodland, lakes, and rivers.
Around 40 % of Brittany's 3 million plus population live near to the coast, where most of the large towns and cities are located.
Central Brittany therefore retains its rustic charm, with peaceful villages and hamlets scattered throughout the agricultural landscape.
The best value properties are therefore to be found in Central Brittany, especially if you buy through Bel Air Homes, as we are a low cost estate agency.
Our sales commission is the lowest at just 2.5% including VAT.
Why buy through a high commission agency ?
---
Feel Brittany: Wild seaside drama and Celtic heritage.

---
Tourisme Bretagne /
Brittany Tourism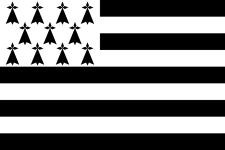 ---
Bretagne
La Bretagne bénéficie d'excellents moyens de transport, avec trois principaux aéroports internationaux, plusieurs petits aéroports, ports pour les Ferry, et un réseau de trains à grande vitesse (TGV).
La Bretagne est une destination touristique en France très prisée. La péninsule bretonne a plus de 2 700 km de littoral préservé, avec un excellent mélange de plages de sable, côtes rocheuses, de ports de pêche, et des villes historiques.
Il y a aussi une mer intérieure idyllique, le Golfe du Morbihan, avec plus de 40 îles.
Dans cette région distincte dont 8 villes avec des cathédrales, des fortifications, des villes fortifiées, des tours, des châteaux et menhirs du néolithique à explorer et à apprécier.
La Bretagne est réchauffée par le Gulf Stream, les hivers sont généralement relativement doux, et les étés sont agréables et chaud, sans devenir trop chaud.
Les agriculteurs et les jardiniers bénéficient donc d'une longue saison de croissance.
Le paysage vallonné de la Bretagne centrale s'élève à un peu plus de 300 mètres par endroits, offrant des vues magnifiques sur ses trois parcs naturels, des réserves naturelles, de forêts, de lacs et rivières.
Environ 40% des plus de 3 millions d'habitants de la Bretagne vivent près de la côte, où la plupart des grandes villes sont situées.
Le Centre Bretagne conserve son charme rustique, avec des villages paisibles et hameaux disséminés dans le paysage agricole.
Les biens immobiliers les plus attractifs se situent en Centre Bretagne, surtout si vous achetez par Bel Air Homes, car nous sommes une agence à frais réduit.
Notre commission de vente est la plus basse à seulement 2,5% TTC.
Pourquoi acheter avec une agence à frais trop élevés ?
---
Bretagne, portes ouvertes sur l'atlantique.

---
Bel Air Homes
Our services are free to vendors, and we are only paid on results.
With a large advertising budget, and large overheads, we are highly motivated to sell every property in our sales portfolio.
Houses for sale in Brittany France / Maisons à vendre Bretagne France
Ille-et-Vilaine 35
Agence Immobilière - Low Cost - Estate Agency
---

Low estate agency commission allows buyers to pay less for property,
and vendors to receive more money from the proceeds of the sale.